Blueberry Muffins
Nov 07, 2021 by
erin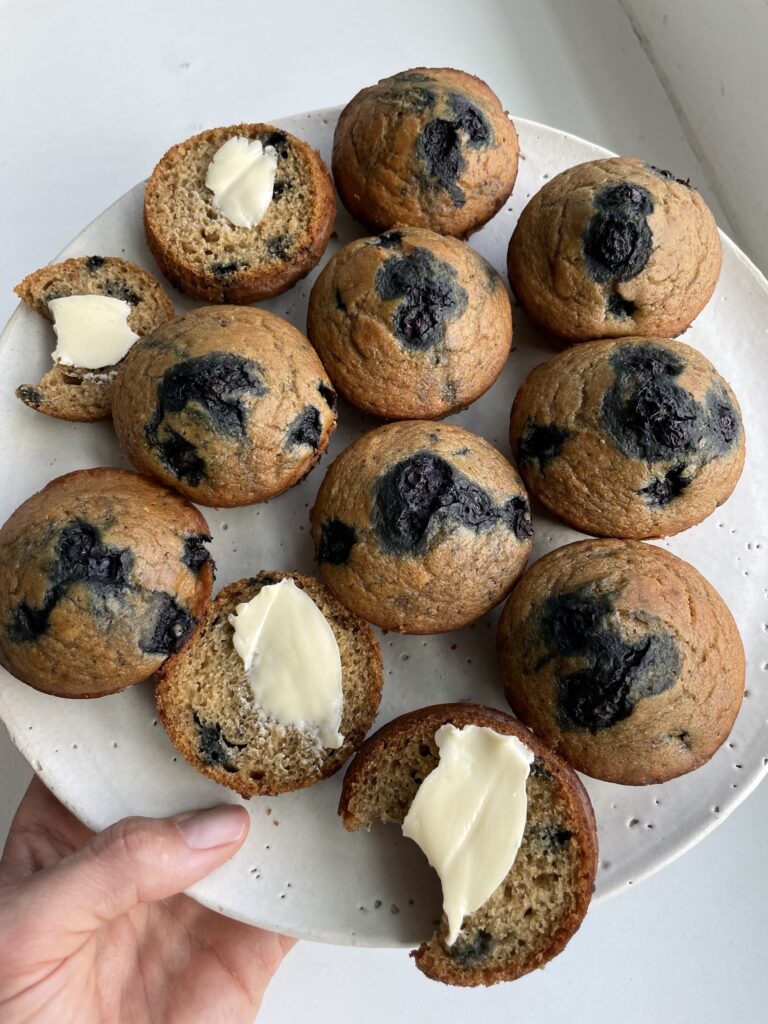 Growing up, this was my favourite muffin recipe. My mom would often make them on weekends and my brother and I would eat the entire tray in one morning. I loved when they'd come out slightly under-baked with a soft, slightly doughy centre. The original recipe, containing eggs and milk, was very easy to veganize! For small items like muffins, I find flax is a great egg replacer. And, of course, it's always so easy to replace any dairy milk with a plant version. Use whatever you have on hand! I usually use soy or oat.
For the flour, I am constantly mixing it up. If you're going for a healthier muffin, use wholewheat flour. You can also use two different flours. Sometimes, I use a cup of all-purpose and a cup of whole wheat, or a cup of all-purpose and a cup of almond flour. Gluten-free flour mixes also work.
For the flax egg, I find it best if you make it the night before so it can really gel up. Most recipes suggest preparing it 15 minutes in advance, but I find the result to be quite watery. Either way will work, but the latter is best. Hope you love these muffins as much as I do! Recipe credit goes to my mama.
Ingredients
1 c plant milk
1 tbsp apple cider vinegar (or any neutral vinegar)
2 flax eggs (2 tbsp ground flax + 5 tbsp lukewarm water)
1/4 c oil (any will work)
2 c all-purpose flour
3/4 c sugar (I prefer coconut)
1 1/2 tsp baking powder
1 tsp baking soda
1/2 tsp nutmeg (freshly grated if you have it!)
3/4 tsp salt
1 heaping c frozen blueberries
Directions
Flax egg

Start by preparing your flax egg: combining ground flax with water, stir and set aside.

Sour milk

Next, preheat oven to 425F and combine plant milk with vinegar. Stir and set aside for ten minutes.

Dry ingredients

Now, combine all dry ingredients (flour, sugar, soda, powder, salt, nutmeg).

Wet ingredients

Combine sour milk with oil, flax egg and gently stir.

Combine wet and dry

Gently pour wet ingredients into the dry ingredient bowl and stir. Once almost combined, add frozen blueberries and stir some more.

Grease muffin tins

Grease your tins and, using a cookie scoop or spoon, divy your batter up between the 12 holes. If you want, you can make larger muffins (with more batter per hole). You'll wind up with an empty muffin tin hole or two — add a bit of water to them so they don't burn in the oven. Bake for 15 minutes and enjoy hot with a little vegan butter.
Rating
4.9 out of 5 stars (based on 12 reviews)
Latest Reviews
Perfection!
Just made your blueberry muffins for Sunday morning treat with a cup of coffee and they were lovely. Only change I made was reducing sugar. Thank you.
Easy and delicious
Subbed apple sauce for the oil, used spelt flour and turned out great. Such a simple recipe my kids can help prepare. We've enjoyed these delicious muffins the past few weekends!
Yummy
My girls love helping me make these. We've already made them a few times since this recipe was posted. We have been using raspberries instead of blueberries and adding a little dark chocolate. Divine.
Amazing!
Honestly some of the best muffins I've ever had, vegan or not. I made some slight alterations that turned out delicious: I substituted 1/4 cup of the flour for ground hazelnuts und split the sugar into 2/4 cups erythritol and 1/4 cup regular sugar (cane). Also used a mix of blueberries and raspberries. Turned out amazing!
Blueberry Perfection
What a difference when the flax eggs are left to gel longer than most recipes call for. These muffins rose incredibly high, were light tasting, not too sweet and were bursting with blueberries. This recipe is a keeper.