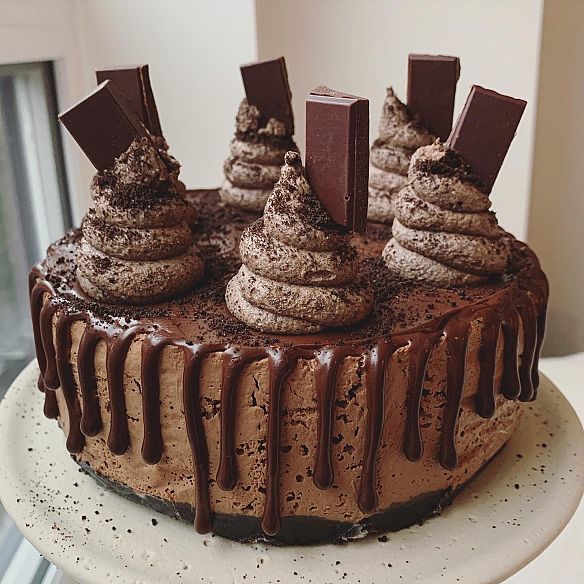 If you're looking for the poop emoji cake…here it is! This was Darren's birthday cake this year. His favourite dessert is chocolate mousse so I turned it into a cake and it turned out amazing. That said, there are some changes I'd make next time I try this recipe. For example, the mousse portion of the cake needed more flavour. Next time I'll add more vanilla and some instant coffee. Texture-wise, however, it was epic: so fluffy yet rich and silky. I couldn't stop eating it! Below is the original recipe that I used. If you try it, feel free to try out the adjustments I mentioned above.
Ingredients
For the oreo crust:
1.5 c. oreo crumbs
3/4 c. vegan butter (like Earth Balance)
small pinch sea salt
For the chocolate mousse:
400g silken or soft tofu
1 1/4 cup (200g) chocolate chips or pieces (I used 58% dark chocolate from Cacao Barry from my bakery)
1 tbsp + 1 tsp vanilla
1/2 tsp sea salt
1/2 c. aquafaba (the liquid from one regular can of chickpeas
1/4 tsp cream of tartar
For the ganache (drips):
1/4 c. chocolate chips (I used 58% dark chocolate)
2 tbsp plant milk (I used oat)
For the icing:
1/4 c. vegan butter (room temperature)
1/4 c. vegetable shortening (room temperature…and if you don't have any, more vegan butter will work)
1.5 c. icing sugar
2 tbsp cocoa powder
1-2 tbsp plant milk (I used oat)
1 tbsp vanilla
1/4 tsp sea salt
1/2 c. oreo crumbs (optional — I like the gritty dark speckles they add but you could sprinkle this on the plain chocolate buttercream dollops instead)
vegan chocolate bar (optional, for garnish — I used ZIMT)
DIRECTIONS
For the oreo crust:
Combine oreo crumbs, butter and salt in a bowl and mix together. Line the bottom and the sides of your springform pan (mine was 6.5″ inches, but you can use a larger one…you'll just end up with a flatter cake) with parchment (the mousse is quite moist so don't skip this step, otherwise it'll be hard to remove without messing up the sides) and press the oreo mixture firmly into the base using a spoon or the flat bottom of a cup. Place in the fridge to firm up.
For the chocolate mousse:
Melt chocolate in the microwave (15 seconds at a time, stirring in between). Add tofu to a blender, then add chocolate, vanilla, salt (and instant coffee if you're testing that out! …let me know how it goes!). Puree until silky smooth and transfer to a medium to large bowl.
Using a mixer, whip aquafaba and cream of tartar together for around six minutes until stiff peaks form (make sure your bowl and beaters are totally clean and have no residue.
Add aquafaba mixture to the chocolate mousse and gently fold together (you don't want to mix it too hard and release all the beautiful air bubbles) until fully incorporated. Pour mixture into your pan with the oreo crust and place in fridge to set overnight (or at least several hours). Once set, before you remove the cake from the pan, you may want to place in freezer for 30 minutes to firm up even more which makes it easier to handle.
For the ganache (drips):
Melt the chocolate and the milk together in the microwave using 15 second increments, stirring in between each zap. Once fully smooth, test the 'dripability' of the ganache down the inside of a bowl. You want to make sure the chocolate is the perfect temperature. If it's too cool, it won't drip enough. If it's too hot, it'll drip too fast and probably hit your cake board or platter (not what you want). You want a nice medium temperature so you wind up with perfect drips that extend mid-cake.
For the icing:
Using a mixer, beat vegan butter and veg shortening on high for two minutes. Then gradually incorporate icing sugar, soy milk, vanilla, salt and oreo crumbs (if using). Transfer icing to a piping bag with a wide circular tip to apply your poo emoji dollops. Garnish each dollop with a chocolate bar square, if you like.
Rating
[site_reviews_summary assigned_posts="146" hide="bars, rating" schema="true"]
Add your own review
[site_reviews_form assigned_posts="146" hide="email" label="Testing"]
Latest Reviews
[site_reviews assigned_posts="146" class="site-reviews" pagination="ajax"]