Creamy Tomato Pasta
Feb 03, 2021 by
erin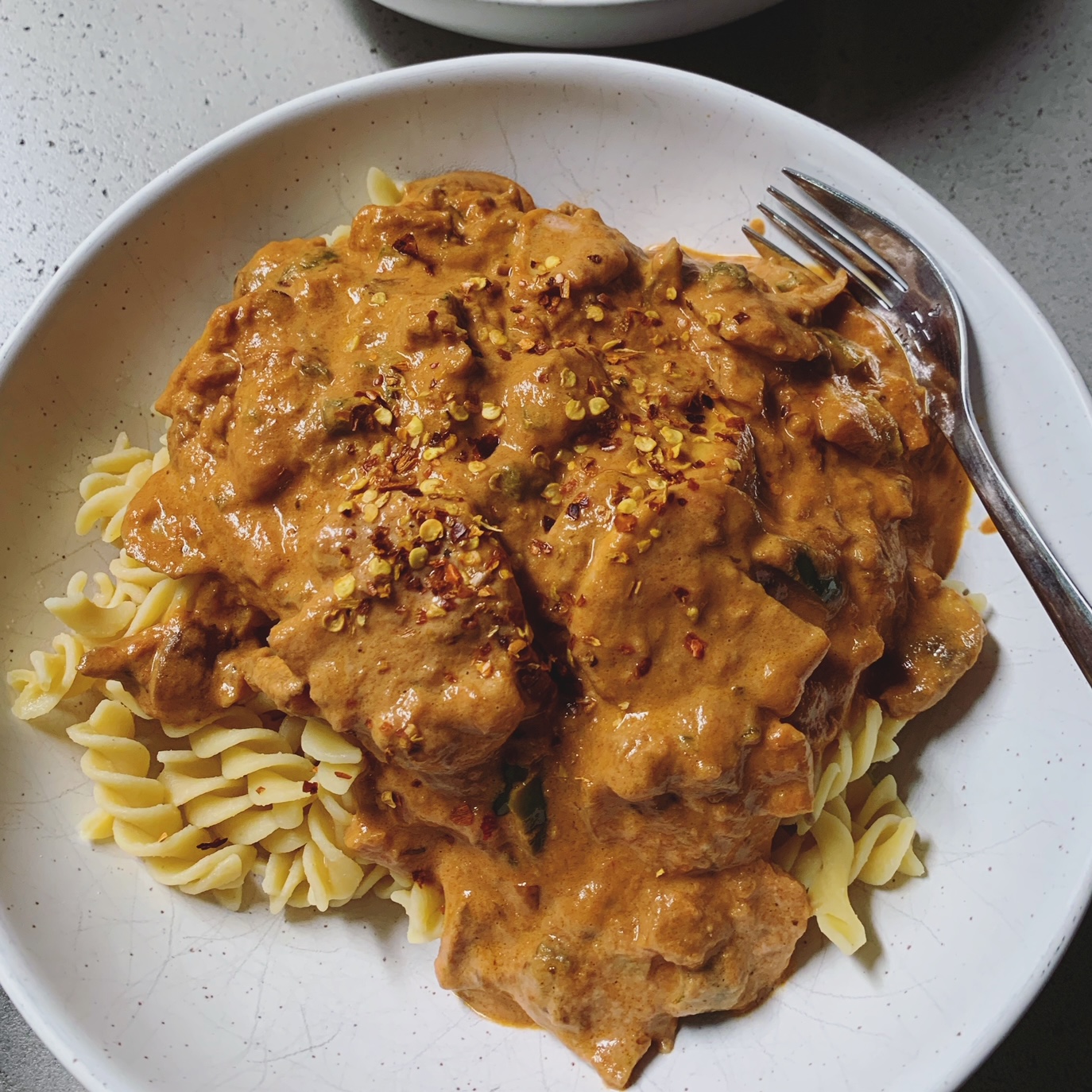 'Creamy tomato pasta' is a regular dinnertime dish over here. It turns out a little different every time — it's such a versatile dish. You can pretty much include any veg you've got kicking around in the fridge, lentils, beans and even plant-based meat. But last week when I made this meal, it turned out so well, I felt it was time to share the recipe here on the site.
A few recipe notes: for the sausage, I prefer Beyond Meat's non-spicy Sweet Italian version. They really up the decadence of this dish. If you don't have garlic powder, you can definitely use fresh garlic (the only reason I use garlic powder is to save time and energy). For the mushrooms, any kind will work. I happened to have white mushrooms when I made this dish and, bonus, they are the least expensive type. Mezzetta Marinara sauce is hands down my favourite — any of their plant-based marinara-type sauces will work here.
For dairy-free cream sauces, cashews are often used, but I've found that most nuts work in their place. I used walnuts here and it was delicious! The walnut flavour isn't strong — if I hadn't made the dish myself, I wouldn't have guessed walnuts were the base of the cream sauce.
Ingredients
For the pasta sauce
2 tbsp olive oil (or other neutral-tasting oil)
1 red onion (chopped)
1 tbsp garlic powder
1 green pepper (chopped into bite-sized pieces)
2 vegan sausages (finely chopped) (I use Beyond Meat)
8 large white mushrooms (sliced)
1 tsp salt
1 jar marinara sauce
For the cream sauce
1 c walnuts (or other nut or seed of choice)
1 c water
For the pasta
~1.5 (12oz / 340g) packs of pasta
Chili flakes (optional garnish)
Heat olive oil in a large pan over medium to medium high heat and add onions. Fry until translucent (about five minutes). Add in garlic powder and fry for a minute, then add chopped green peppers and crumbled or finely chopped sausages. Once sausages are well-cooked and browned, add in the mushrooms and increase heat by a few notches. Cook until mushrooms are soft and lightly browned.
Add marina sauce to the pan and bring to a gentle simmer.
In the meantime, cook pasta using package instructions and prepare cream sauce by adding all ingredients to a blender and blending until smooth.
Add cream sauce to your pan and lower heat. Stir everything together.
To serve, add pasta to dinner bowls and load on your chunky creamy tomato sauce. Garnish with chili flakes if you like a little heat.
Rating
[site_reviews_summary assigned_posts="268" hide="bars, rating" schema="true"]
Add your own review
[site_reviews_form assigned_posts="268" hide="email" label="Testing"]
Latest Reviews
[site_reviews assigned_posts="268" class="site-reviews" pagination="ajax"]