Easy Sushi Bowls
Nov 03, 2021 by
erin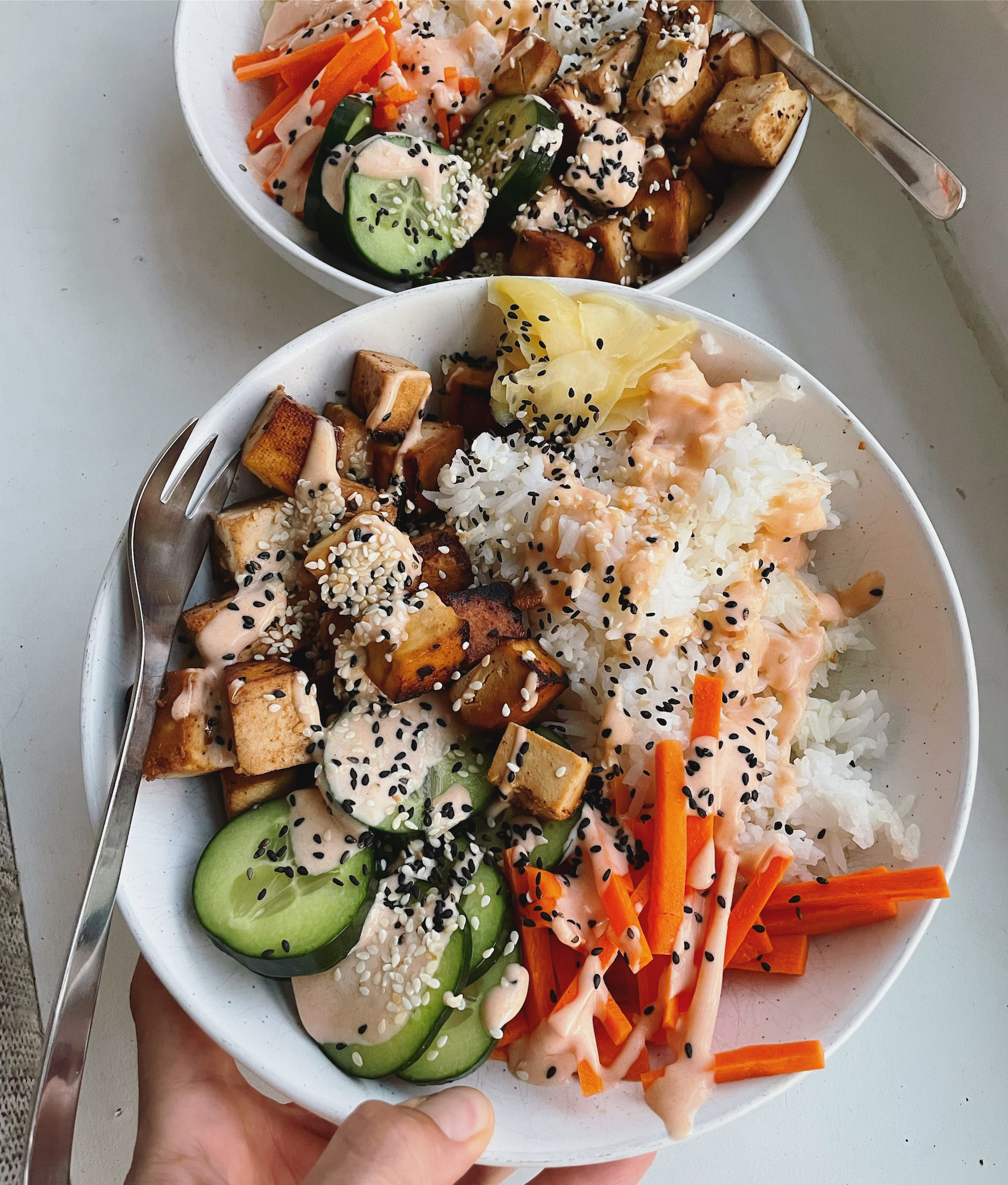 These easy and delicious sushi bowls have recently become part of our regular weekly dinner menu. I LOVE THEM!! And they are very easy to make and basically only require four fresh ingredients plus a few pantry or fridge staples. I've made sushi bowls in the past, but this version was inspired by a Fresh Prep meal. This version is a further simplified version of those. I love that, besides cooking the rice and pan-frying the marinated tofu, there's no other cooking. You just chop the carrots and the cukes, marinate the tofu in just two ingredients, make the sauce using two ingredients, then chuck everything together. You can also take components of this meal to make for a very kid-friendly meal (cucumbers, carrots sticks, plain tofu and rice). Hope you love this bowl as much as I do! Serves 2

Ingredients
For the bowl:
1 block extra firm tofu (cubed)
1/2 c soy sauce
3 tbsp maple syrup
2 carrots (julienned or grated)
1 cucumber (sliced into rounds)
2 tbsp rice vinegar
1 avocado
1 c rice (Jasmine or short-grain Japanese rice)
Pickled ginger
Sesame seeds
For the spicy mayo sauce:
1/3 c egg-free mayo
1-2 tbsp hot sauce (I used Frank's)
Directions
Tofu marinade

In a medium bowl, combine soy sauce and maple syrup. Add the tofu and stir gently to coat. Marinate for at least 15 minutes or up to 24 hours. Give tofu a stir every once in a while to ensure it's marinated evenly.

Rice

Cook rice according to package instructions.

Cucumber and carrots

Chop cucumbers and carrots (or grate them if you're short on time) then toss with rice vinegar. Set aside.

Cook tofu

Add the tofu and marinade to a pan over medium to medium high heat. Cook for 10-15 minutes, stirring occasionally, until golden brown.

Spicy mayo sauce

In a small bowl, combine mayo with hot sauce and stir. Set aside.

Assemble your bowl

Dish up your rice into two bowls. Add carrots and cucumbers along with any rice vinegar remaining in dish. Next, add tofu, then garnish with pickled ginger and lots of sesame seeds. Drizzle with spicy mayo sauce. Enjoy!
Rating
5 out of 5 stars (based on 4 reviews)
Latest Reviews
So easy and delicious!
My friend made this for me tonight and it is now going to be a staple meal for me. I used to make something similar that required a lot more steps. I love how quick this one is to throw together, and how satisfying it is with all the fresh ingredients. We also incorporated bell pepper, edamame, mango, green onion, and roasted yam. Highly recommend! Thanks so much for the inspiration:)
Quick and Delicious!
So glad I came across this recipe. It's definitely a weekly go to !
Easy and delicious
Love this recipe – so simple but so good!
Delicious!
I just made this for dinner and so quick and easy!! I used siracha and added a little more maple syrup but so good! Definitely on my regular rotation!