Great Granny's Never-Fail Pancakes
May 05, 2017 by
erin
My mom has always made the best blueberry pancakes. Growing up, I'd overdose on them nearly every weekend. If I had to give my childhood a flavour, it might be these pancakes.
The original recipe is from my great granny Leila. She passed it on to my late Granny Betty, whose very well-used recipe card my mom still has. I love her curly writing so much (scroll down).
Recently, my mom had us over for brunch. On the drive over, she'd texted me asking how to make a vegan egg. She was veganizing the family pancake recipe!!!!! I wondered if they'd be the same. Amazingly, THEY WERE. I actually couldn't believe it. I'd never have known the difference.
Below, I've doubled the recipe (the pancakes are delicious leftover) and modernized it even further using my Vitamix (Ascent Series 3500*). Using a blender means no mixing by hand and fewer messy dishes. I don't know why I haven't always made pancakes using it! Lastly, the bananas are less about flavour, more about adding little pockets of moisture throughout the pancake. You could skip them, but I think they add a lot. Enjoy!
Ingredients
2 c. flour
2 tsp. salt
2 tsp. soda
2 very full tbsp. ground flax
5 tbsp. lukewarm water
2 c. almond milk
Juice of one lemon
4 tbsp melted vegan butter
1 1/2 ripe banana (sliced)
1 c. blueberries (optional)
DIRECTIONS
Make the flax egg by combining ground flax with water — stir and set aside for minimum 15 minutes, maximum 1 hour.
Next, make the 'buttermilk': add the almond milk to your Vitamix, then add the juice of one lemon. Let sit for 10 minutes.
Add flour, salt and soda directly to your Vitamix and pulse on low a few times. Do not over-mix.
Immediately after adding the dry mix to the almond milk, add your flax eggs and melted butter, then blend on speed 1 (or low) for about eight seconds. Scrape down the sides and blend again (on low) for 3 seconds. With the lid off, let the batter sit for five minutes.
Add in chopped banana and blueberries and stir using a spatula.
Heat your greased pan or griddle to medium heat. I find it easiest to grease the pan using coconut oil spray. Drop a heaping 1/4 cup of batter onto the griddle at a time. I find using a big ice cream scoop works best. Flip when bubbles appear in the batter.
Enjoy with maple syrup or pomegranate molasses, coconut whip or vegan butter and extra berries. Happy Mother's day to all you incredible moms out there!!!!
*I recently began using the Vitamix Ascent Series 3500. Previously, I used the (less expensive) Pro Series 300 and loved it just the same. The Ascent is definitely more luxurious with its pre-set buttons for things like smoothies (you hit one button and walk away) and its self-cleaning option, but my old model always did the trick. The one thing I recommend purchasing with your Vitamix is a smaller container to make smaller recipes and single portions.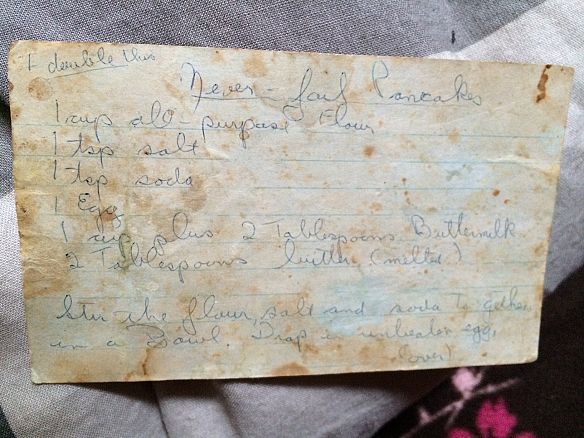 Rating
[site_reviews_summary assigned_posts="156" hide="bars, rating" schema="true"]
Add your own review
[site_reviews_form assigned_posts="156" hide="email" label="Testing"]
Latest Reviews
[site_reviews assigned_posts="156" class="site-reviews" pagination="ajax"]