Healthier Brownies
Jan 25, 2021 by
erin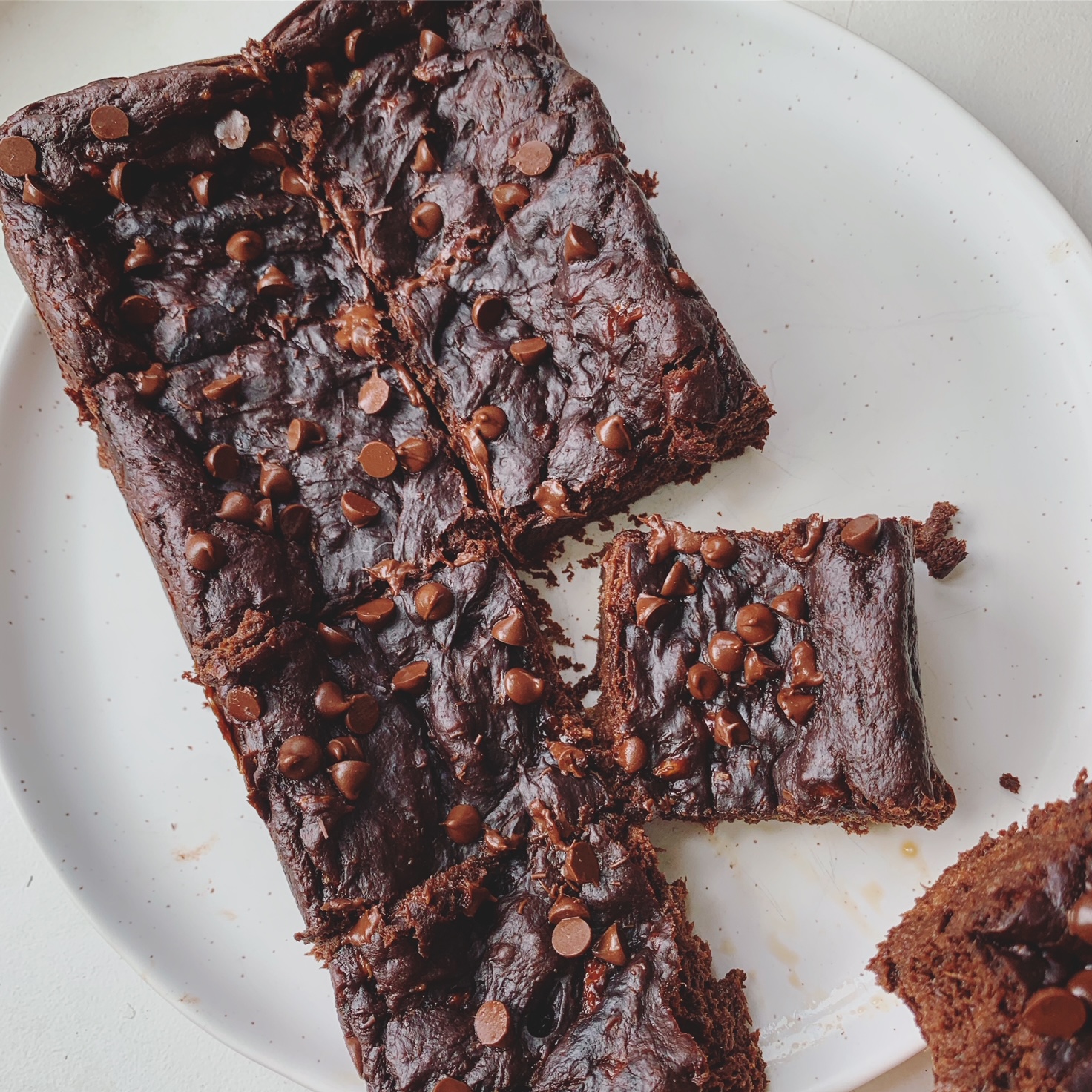 Looking at this brownie recipe, you may wonder how it could possibly work. It contains no flour and barely any sweetener. What kind of brownie recipe has no flour or sugar?! Well, bananas are the secret ingredient. They add bulk and act as a binder and a sweetener for this incredible recipe. They are really quite magical!! But I will say, this is not your classic brownie recipe. If you're looking for something super chocolatey and sweet, this may not be the brownie recipe for you. I'm not sure if I've fallen in love with them because I love the healthier ingredients so much, or because they are delicious. I love how they are mildly sweet — this allows you to really taste the cocoa instead of simply 'sugar'. A little sprinkle of salt on top make them sweet and salty.
If you don't have tahini, any nut or seed butter will work in this recipe, but tahini is hands down my favourite. If you don't have a sweet tooth, you could skip the maple syrup altogether. The bananas (which are the bulk of the recipe) do add a decent amount of sweetness. Lastly, if you prefer your desserts on the salty side, I recommend adding a scant half teaspoon of salt instead of a quarter teaspoon. Hope you love!
Ingredients
2 medium bananas (mashed)
1/2 c tahini
1 1/2 tbsp maple syrup
1/2 c cocoa powder
1/2 tsp baking soda
1/4 tsp salt
1/4 c chocolate chips
Preheat oven to 350F.
In a medium bowl, mash bananas with a fork. Stir in tahini and maple syrup, then add cocoa powder, baking soda and salt. Stir to combine then finish by adding the chocolate chips.
In a parchment lined 9″x4″ pan (or anything around that size), add your batter and bake for 20 minutes. Remove from oven and let cool fully (ideally overnight) before diving in. They are quite soft and moist but will firm up when cold. They are best enjoyed cool or at room temperature.
Rating
[site_reviews_summary assigned_posts="237" hide="bars, rating" schema="true"]
Add your own review
[site_reviews_form assigned_posts="237" hide="email" label="Testing"]
Latest Reviews
[site_reviews assigned_posts="237" class="site-reviews" pagination="ajax"]