Healthier Brownies
Jan 25, 2021 by
erin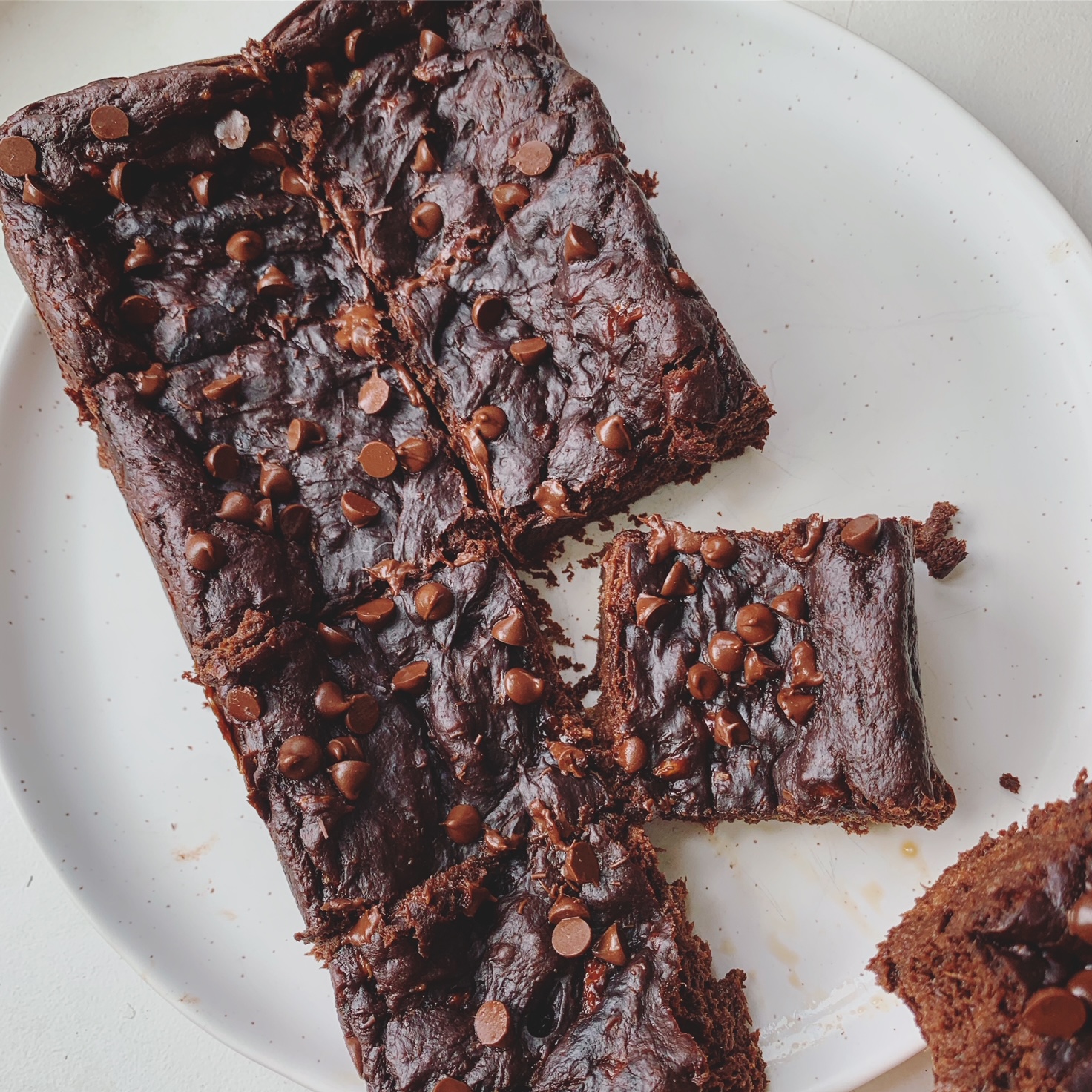 Looking at this brownie recipe, you may wonder how it could possibly work. It contains no flour and barely any sweetener. What kind of brownie recipe has no flour or sugar?! Well, bananas are the secret ingredient. They add bulk and act as a binder and a sweetener for this incredible recipe. They are really quite magical!! But I will say, this is not your classic brownie recipe. If you're looking for something super chocolatey and sweet, this may not be the brownie recipe for you. I'm not sure if I've fallen in love with them because I love the healthier ingredients so much, or because they are delicious. I love how they are mildly sweet — this allows you to really taste the cocoa instead of simply 'sugar'. A little sprinkle of salt on top make them sweet and salty.
If you don't have tahini, any nut or seed butter will work in this recipe, but tahini is hands down my favourite. If you don't have a sweet tooth, you could skip the maple syrup altogether. The bananas (which are the bulk of the recipe) do add a decent amount of sweetness. Lastly, if you prefer your desserts on the salty side, I recommend adding a scant half teaspoon of salt instead of a quarter teaspoon. Hope you love!
Ingredients
2 medium bananas (mashed)
1/2 c tahini
1 1/2 tbsp maple syrup
1/2 c cocoa powder
1/2 tsp baking soda
1/4 tsp salt
1/4 c chocolate chips
Preheat oven to 350F.
In a medium bowl, mash bananas with a fork. Stir in tahini and maple syrup, then add cocoa powder, baking soda and salt. Stir to combine then finish by adding the chocolate chips.
In a parchment lined 9″x4″ pan (or anything around that size), add your batter and bake for 20 minutes. Remove from oven and let cool fully (ideally overnight) before diving in. They are quite soft and moist but will firm up when cold. They are best enjoyed cool or at room temperature.
Rating
4.9 out of 5 stars (based on 84 reviews)
Latest Reviews
Amazing
These are delicious, highly recommend. I follow the recipe but add a sprinkle of Himalayan salt on top
Heavenly!
Personally, I don't like to bake and I also don't really like brownies. However, this recipe looked like something I'd enjoy and all the reviews we're so positive, that it convinced me to try it out. I followed the base recipe by omitting maple syrup, vanilla, and chocolate chips. I also used peanut butter instead of tahini. It was such an easy recipe with such minimal ingredients that it's much more approachable for someone like me, who is intimidated by baking! After baking and letting them cool for about 30 mins, I tried them and was utterly amazed! They're so delicious while still being made with such minimal and healthy ingredients! I absolutely love them and will definitely make them again in the future! Thank you Erin!!
Easy and delicious
The perfect thing to make when you want something easy and satisfying!
The best brownies out there
Wow these are AMAZING.
They are a hit in my house and I love how they are so easy to make and also flour-free, so naturally gluten free!
Thank you so much, Erin!!
Delicious!
I love these brownies as they satisfy my need for chocolate. I just made them this past weekend and forgot to add the maple syrup; they were still good, especially when warm–the taste of the bananas combined with the chocolate was just what I needed! Thanks Erin