Vegan Ginger Beef (Healthier Version with lentils)
Sep 06, 2018 by
erin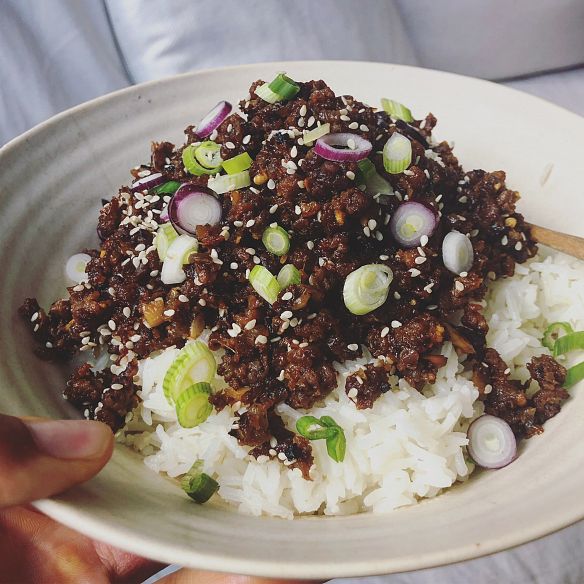 If there's one dish that will convince pre-vegans that plant-based food can be delicious, 'meaty' and satisfying, it's this one. The next time you're hosting a vegan skeptic for dinner, try this "Korean" Vegan Beef recipe from lordbyronskitchen.com. It's a big favorite in my home. I've loved seeing your videos of non-vegans trying this dish — no one guesses it's vegan and everyone loves it. Grateful for Korean chefs for inventing this delicious combination of flavours!
I love the original "Korean" Vegan Beef recipe from lordbyronskitchen.com and recommend it if you're cooking for the vegan skeptic in your life, but if you're just making it for yourself or a vegan friend, you can 'healthify' the recipe a bit by subbing in lentils for the plant-based meat or going half and half (half lentils, half plant-based meat). I've also added less sugar in the below recipe, as well as, some vegetables to complete the dinner plate. The cows thank you for trying this recipe and sharing it with anyone who might be interested. Hope you love it!
Ingredients
1 large red onion (chopped medium-fine)
Splash oil
1/2 pack of Gardein beerfless beef or 3/4 pack of Beyond Meat plant-based ground (or ~200g of any plant-based ground beef)
1 3/4 c. cooked lentils
5 cloves garlic (minced)
1/3 c. tamari or soy sauce
1/3 c. brown sugar
1 tbsp sesame oil
2 tbsp chopped ginger
1/2 tsp chili flakes (optional)
Pinch black pepper
1 head broccoli
Rice of your choice (I often use sushi rice)
Green onion
Sesame seeds
Directions
Heat avocado oil in a medium to large pan over medium high heat. Add onions and sautee until translucent (~10 min). Add beefless beef, lentils and garlic and cook for another five to ten minutes (stirring often so none sticks to pan).
In a small bowl, combine tamari and brown sugar. Whisk together until sugar is somewhat dissolved, then stir in sesame oil, ginger, chili flakes, black pepper.
Pour sauce over the beefless beef / lentil mixture, cook over medium heat for five minutes so the ginger can cook and the flavours can meld together, then serve hot over rice. Garnish with chopped green onions and sesame seeds and serve with broccoli. Enjoy!!
Recipe adapted from lordbyronskitchen.com.
Rating
[site_reviews_summary assigned_posts="127" hide="bars, rating" schema="true"]
Add your own review
[site_reviews_form assigned_posts="127" hide="email" label="Testing"]
Latest Reviews
[site_reviews assigned_posts="127" class="site-reviews" pagination="ajax"]