Life-changing '3-Ingredient' Pancakes
Jan 12, 2021 by
erin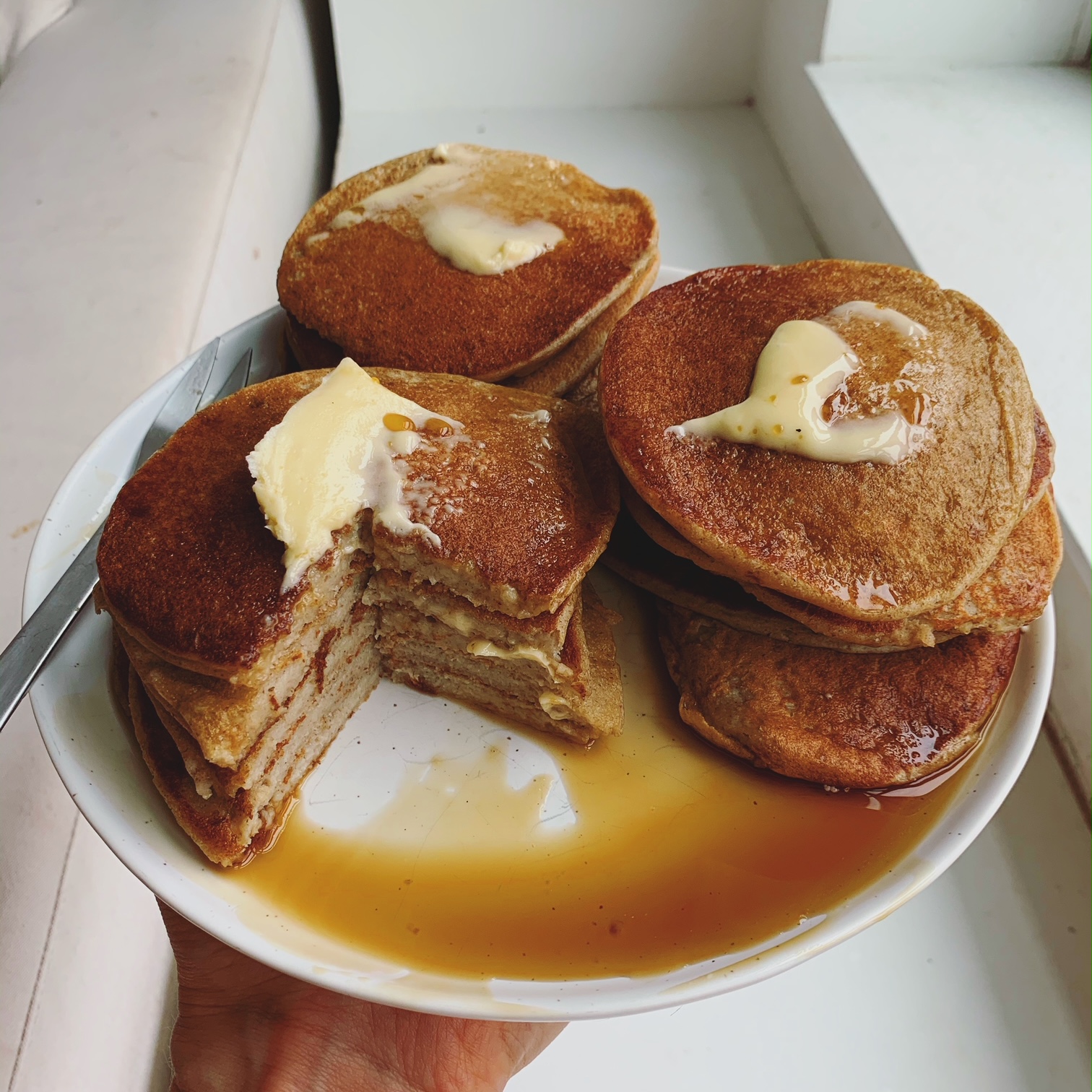 Calling these pancakes 'life-changing' sounds like an exaggeration, but they really have simplified our mornings and helped us achieve our daily nutrition goals. I really don't think I'll ever use another pancake recipe. These are just too nutritious and delicious to be beat. We make a triple batch about three times a week.
Disclaimer: due to the high moisture content of this recipe, they are pretty 'wet'. For example, once they're nice and golden in the pan, you'll dish them up and cut them and notice that they're a bit smooshy. I like how moist they are (and think you will, too), but wanted to mention this in case you think you've done something wrong. When fresh, they are meant to be that moist and soft. Leftover pancakes that have been in the fridge overnight do firm up and cut into distinct pieces more easily.
I first saw the recipe for this type of pancake floating around online. It was written as one cup plant milk, one cup oats, one banana. It seemed too easy to be true! But I tried it, and it worked. That simple version is fine, but a little baking powder really helps fluff them up. The other ingredients I've added here add a little extra flavour and nutrients, but if you prefer to keep things simple, stick with the 1:1:1 recipe — impossible not to memorize!
Hope you love this as much as we do and that it forever improves your morning routine.
Ingredients
1 c dairy-free milk
1 c rolled oats
1 medium to large banana (~130g)
1/2 tsp baking powder
1 tbsp flax (optional)
1/4 tsp cardamon or cinnamon (optional)
1/2 tsp almond or vanilla extract (optional)
Dairy-free butter or oil
Maple syrup
Directions
Add dairy-free milk, oats, banana and baking powder (and flax, spices and extract, if using) to a blender and blend for one minute or until smooth. Let sit for a minimum of ten minutes to thicken.
Preheat pan on medium low to medium heat. Grease pan with dairy-free butter and, using a cookie scoop or measuring cup, add batter to the pan. I use a 3 tbsp cookie scoop so my pancakes are on the small side, but use whatever you prefer. Cook until bubbles appear in the batter, then flip and cook for another minute or two. If you're using three tablespoons of batter to make each pancake, you should wind up with about seven pancakes.
Serve with dairy-free butter and maple syrup.
Rating
4.9 out of 5 stars (based on 15 reviews)
Latest Reviews
Total game changer
Thank you. I'm a celiac but the rest of my family isn't. I can't even have flour in the house. I used gf oats and cashew milk. These were a huge hit with everyone even my picky 14 year old! Amazing. I now can make my kids quick, easy and nutritious pancakes. Thank you!
Ps chocolate chips put mine over the top.
My fave pancake recipe!
I have been making these for almost a year! I am not a pancake fan but this recipe has ruined me! They're a little softer than regular pancakes but they're the best I've ever had! I add chocolate chips when I'm in the mood, but the pancakes are sweet enough from the bananas. They're amazing, and a lot healthier too. I make these every time I get bananas. Try them!
Easy and delicious 😋
I've tried a few variations of this type of recipe and this one worked the best. The weren't too thick and are very satisfying.
So easy peasy on a weekday or weekend morning!
There is no going back after trying these delightful flap jacks! Your only complaint will be you want more.
Fast and easy pancakes!
Perfect for busy mornings. Super flavourful with all the additions!