Morning Glory Muffins (aka My Fav Nutritious Muffins)
Mar 26, 2021 by
erin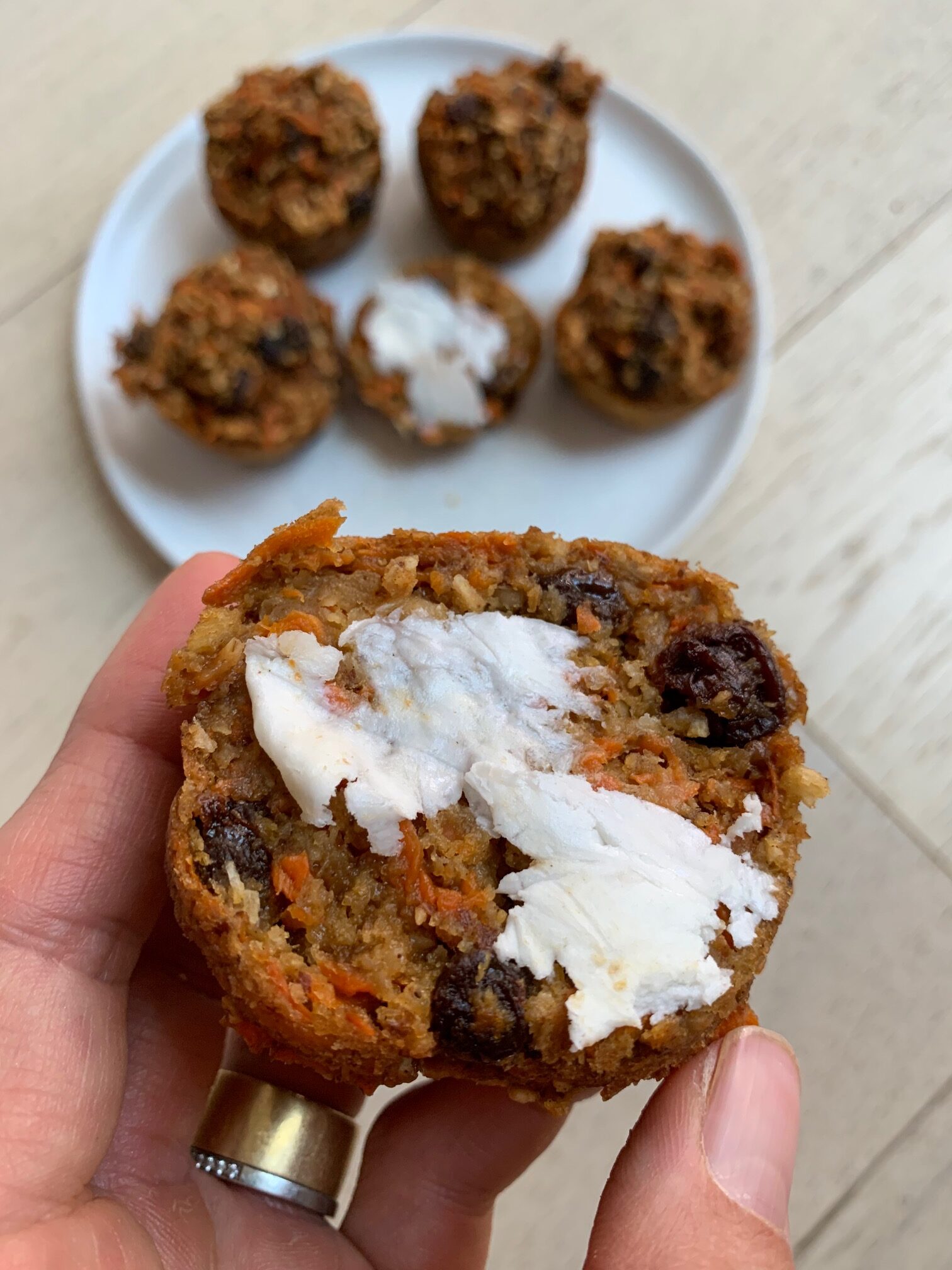 These are hands-down my favourite healthier muffins. While they are delicious, I'm the first to admit that they might not be the most enticing looking?! If I saw these on a blog, I'd probably scroll right past them. But I've been making them on and off for 15 years and can attest they are a winner. Even though they are loaded full of grated carrot, they are a delicious sweet muffin, especially with a little dairy-free butter on top. Looking at the recipe, you, too, might be skeptical about the amount of carrot, but somehow it works! If you're feeding picky kids, you could try the recipe with less carrot. If you use a nutritious flour like spelt, whole wheat or oat, these muffins are even more nutrient dense. Hope you enjoy!
Ingredients
2 tbsp ground flax
5 tbsp water
1 c apple sauce
1 1/2 tbsp vanilla
5 medium carrots (grated)
1 apple (grated)
1/2 c raisins
1/2 c unsweetened coconut
2 c flour of choice (I usually use spelt)
1/3 – 1/2 c coconut sugar
1 tsp cinnamon
1/2 tsp fresh-grated nutmeg
3/4 tsp salt
1 tsp baking soda
1. Start by preparing your flax egg: combine ground flax with water in a small bowl, stir and set aside. I like preparing the flax egg well in advance so it can really gel up, but 20 minutes should be enough to let it sit and thicken. Give it a stir every few minutes.
2. Preheat oven to 350F and grate carrots and apple (no need to peel either) into a large bowl. Next, add dry ingredients (flour, coconut sugar, spices, salt, baking soda, coconut and raisins) to the same bowl.
3. In a separate small to medium sized bowl, add apple sauce, vanilla and flax egg and combine using a spatula. Add wet bowl to the carrot mixture and combine.
4. Grease muffin tray and add batter to holes using a cookie scoop or spoon. You'll have enough batter for twelve heaping muffins. Bake for 25 minutes.
Rating
4.5 out of 5 stars (based on 26 reviews)
Latest Reviews
Magically simple spellbound muffins
I have to admit I fell under a heavenly spell when a friend first suggested baking Erin Ireland morning glory muffins. I was smitten, to say the least, and in my kitchen I've shared Erin's muffins with all the people I love. Try baking a batch, it will leave you with the most memorable experience. By the way, Erin, what did your taste buds report back to you once you made Laura Miller's Blackberry Chia Muffins?
Beautiful & tasty
What a great recipe! Thanks
Used whole wheat flour and they were awesome!
Had to crank my oven to a higher temperature and little bit longer cooking time just cause I like a bit crisper on the outside, but that's just preference.
WOW
These are amazing! I've made them 4x and keep them in the freezer, they thaw beautifully for a little after dinner sweet!
I use the 5 carrots (this is the worst part- grating them lol)
I put gf oats (sprouted kind from onedegree) in my blender and ground them up until I had 2 generous cups of ground oats (don't measure whole oats or you won't have enough.)
I add pumpkin seeds, a bit of gr cloves, and mini choc chips.
Tastes like a moist pumpkin chip muffin 😍 maybe bake a few mins longer, and let them cool so they harden up.
THANK YOU ERIN!!
Very impressed 😍
I was a bit skeptical of how this would turn out because my batter seemed really dense and wet…but they worked out really well and I am beyond impressed! I think my medium carrots were a tad on the large size and my flax egg wasn't completely gelled so I did need to bake them for about 15 minutes longer than suggested. Would definitely make them again, big fan!
So good!
I love these muffins! But I find that I need to bake them for 45 minutes rather than 25 minutes for them to be cooked through. My 2 year old daughter loves them too!