Mushroom Wellington
Dec 09, 2021 by
erin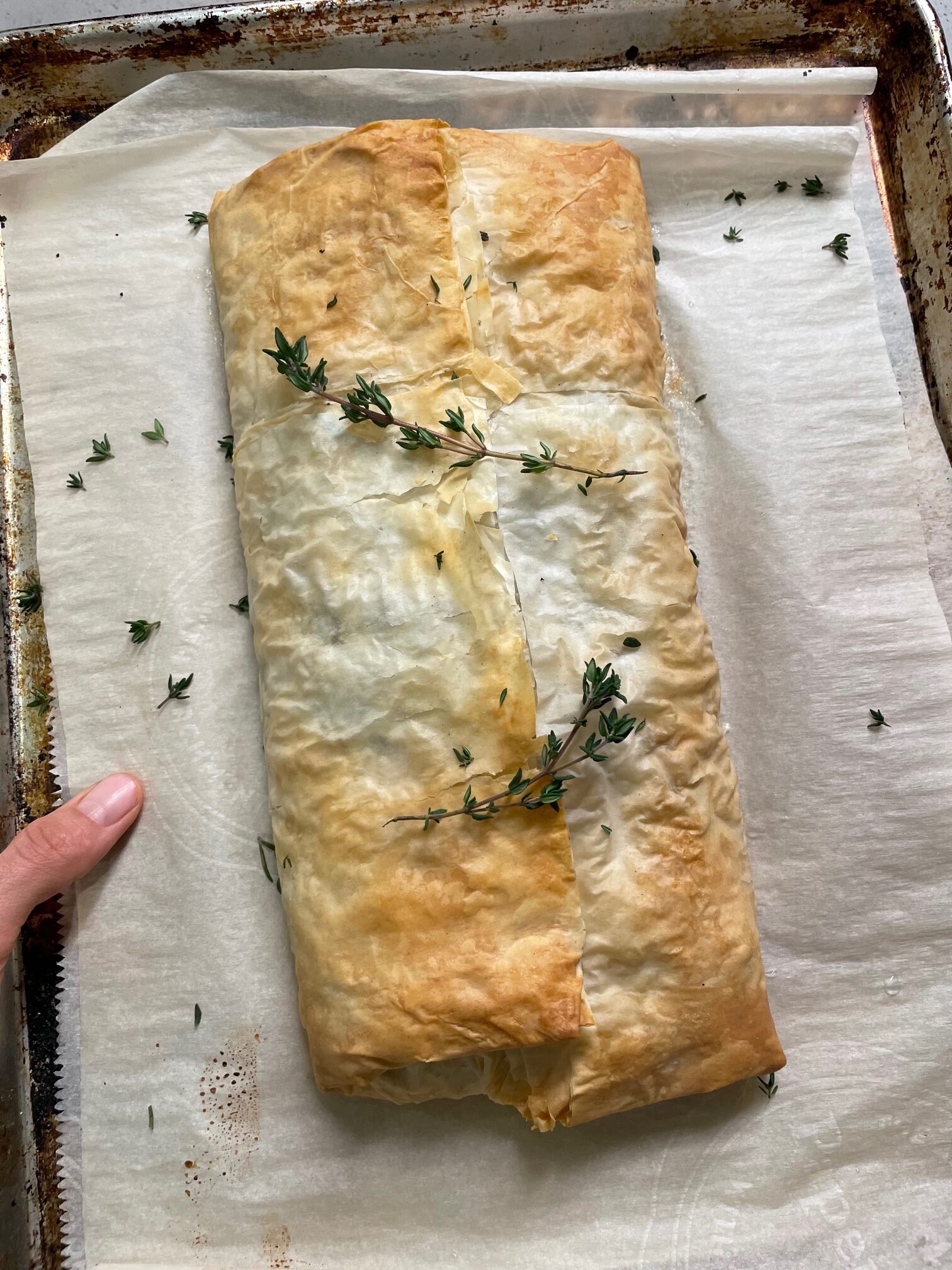 More and more people these days are seeking turkey-free alternatives for their holiday dinners and wellingtons are a beautiful and delicious option! They are deceivingly easy to make (once you get past the fear of working with phyllo pastry…promise it's easier than it seems!), they look beautiful at the center of your table and they are easily more delicious than dry, flavorless turkey meat. Hope you give this one a shot. If you don't have all the ingredients, feel free to google "vegan wellington" and hundreds of recipe options will pop up!
Ingredients
7 tbsp vegan butter (divided)
1 large yellow onion (chopped)
5 cloves garlic (minced)
5 c mixed mushrooms (packed, coarsely chopped)
2 tsp thyme (finely chopped)
2 tsp rosemary (finely chopped)
1 c green lentils (cooked)
1 pack Beyond ground beef (or 340g of any meatless crumble)
½ c red wine
1 tbsp black pepper
½ tsp salt
5 sheets of filo pastry plus
Fresh thyme (to garnish, optional)
Directions
Thaw the phyllo according to package instructions (can take up to 12 hours).
Preheat the oven to 375F and line a baking sheet with parchment paper or silpat liner.
In a medium frying pan, cook the vegan ground beef until browned and crispy over medium to medium high heat.
In a separate large frying pan, heat the vegan butter over medium heat and add the chopped onion. Sauté until the onion is transparent, about seven minutes. Add the garlic and saute for another minute or two while stirring.
Add the mushrooms and cook until the mushrooms start to soften, about ten minutes (note: do not add salt at this point or the mushrooms will release their juices). Add chopped thyme, rosemary, lentils and then the pre-cooked vegan ground beef.
Next, stir in the wine and pepper. Once the mushrooms are fully cooked and there's no excess moisture at the bottom of the pan, remove from the stove, transfer to a bowl and allow to cool.
Prepare your phyllo pastry by adding one sheet to your baking sheet and brush it with the melted butter using a pastry brush. Then, place another layer directly on top of the first sheet, and brush again with butter. Repeat these steps five times (so, five layers of pastry).
Spoon the cooled mushroom-lentil-vegan-meat mixture lengthwise in the middle of the pastry of your choice, leaving a 3-4" border along the edges of the pastry.
Carefully fold down the top of the pastry over the mixture, then do the same with the bottom edge. Lastly, fold the sides over top of the mixture to close the wellington.
Lightly brush the exterior of the wellington with more melted butter and bake until golden brown, about 30 minutes.
Remove from the oven and serve with a garnish of fresh thyme if you like. Enjoy!
Rating
[site_reviews_summary assigned_posts="612" hide="bars, rating" schema="true"]
Add your own review
[site_reviews_form assigned_posts="612" hide="email" label="Testing"]
Latest Reviews
[site_reviews assigned_posts="612" class="site-reviews" pagination="ajax"]