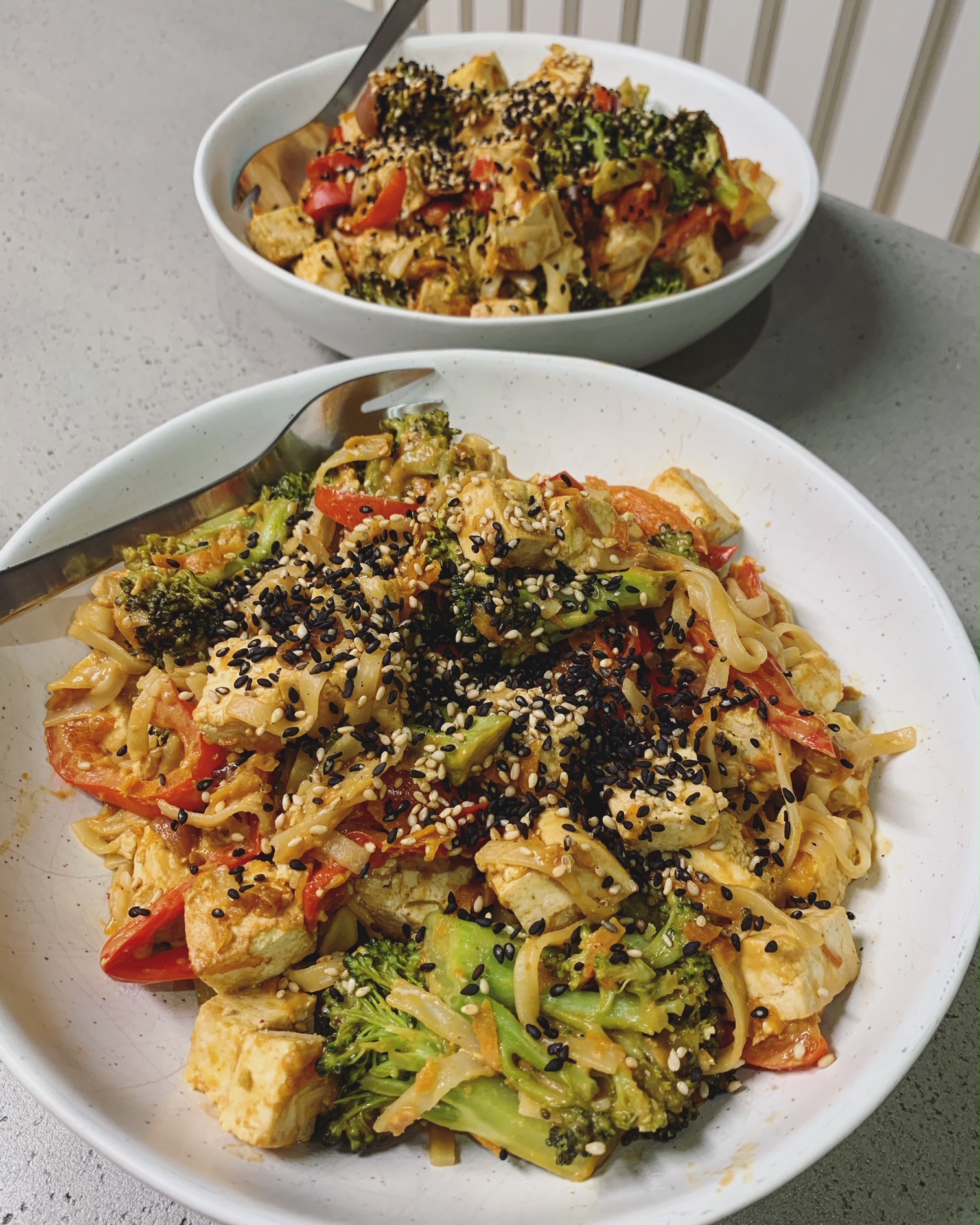 This is a very regular dinner in our home not only because it's so delicious (who doesn't love nutty noodles?!), but because it's easy to make, too. Besides the fresh veggies (onion, broccoli, carrots and peppers), hopefully you already have all the other ingredients in your pantry or fridge. Also, the sauce is just three ingredients that require no prep. You can't mess this recipe up! Even if you overcook the veggies, they are still delicious coated with the sauce.
If you have a nut allergy, try using tahini instead of peanut butter for the sauce. It'll still be delicious!
This recipe serves two large eaters.
Ingredients
For the sauteed veggies
2 tbsp oil
1 red onion (chopped)
1 tbsp garlic powder
3/4 tsp salt
1 head broccoli (cut into florets)
2 red peppers (thinly sliced)
2 large carrots (coarsely grated)
3 tbsp tamari or soy sauce
2 tbsp rice vinegar
1/4 c water
1 block firm tofu (chopped into cubes)
For the sauce
1/2 c smooth peanut butter
1/3 c water
1/4 c tamari or soy sauce
2 tbsp rice vinegar
For the noodles
~225g rice noodles (half a pack)
1 tbsp sesame oil (optional)
For the garnish
On the stove, heat a large pan over medium to medium high heat. Add oil and let heat up for 30 seconds. Add onions and cook for five minutes or until transparent. Add garlic powder and salt and cook for another 30 seconds, then add vegetables. If the pan is feeling dry, add two to four tablespoons of water. Finally, add in tamari and rice vinegar, then cover the pan and cook for seven minutes, stirring every few minutes. Once veggies are tender, add the tofu to the pan and stir until heated throughout.
For the sauce, add all ingredients to a bowl and whisk together until smooth.
Cook rice noodles according to package instructions. When done, drain and rinse the noodles and return them to the pot. Add in sesame oil and stir.
To assemble the dish, add noodles to the pan with veggies followed by the peanut sauce. Stir and serve. Garnish with sesame seeds (optional). Enjoy!
Rating
5 out of 5 stars (based on 6 reviews)
Latest Reviews
Delicious and filling!
I've had this recipe sitting in my Paprika app for months and finally got around to making it. This will definitely be part of my rotation! So tasty! I added a little bit of maple syrup to the sauce and a few other veggies. Thanks for another great recipe!
So Good and Easy!
We make this all the time – thank you for the great recipe!
Perfection
This is such an easy recipe and a huge hit every time!!
Easy, Healthy and Yummy!
This was so good, I couldn't stop eating it! I added a bit of extra peanut butter, and some maple syrup to taste because I prefer a sweeter peanut sauce. It made a lot; my partner and I had it for dinner, I had some more for a snack, a big bowl for lunch today and there's still some left!
Oh sooo good!!!
This recipe is easy peasy and oh soo good. When I accidentally have it too many days in a row I like to throw in some chili peppers one day or maple syrup to mix things up but keep the same great taste! Thanks Erin for this one!