Roasted Tomato and Potato Salad with Chickpeas
Jan 28, 2021 by
erin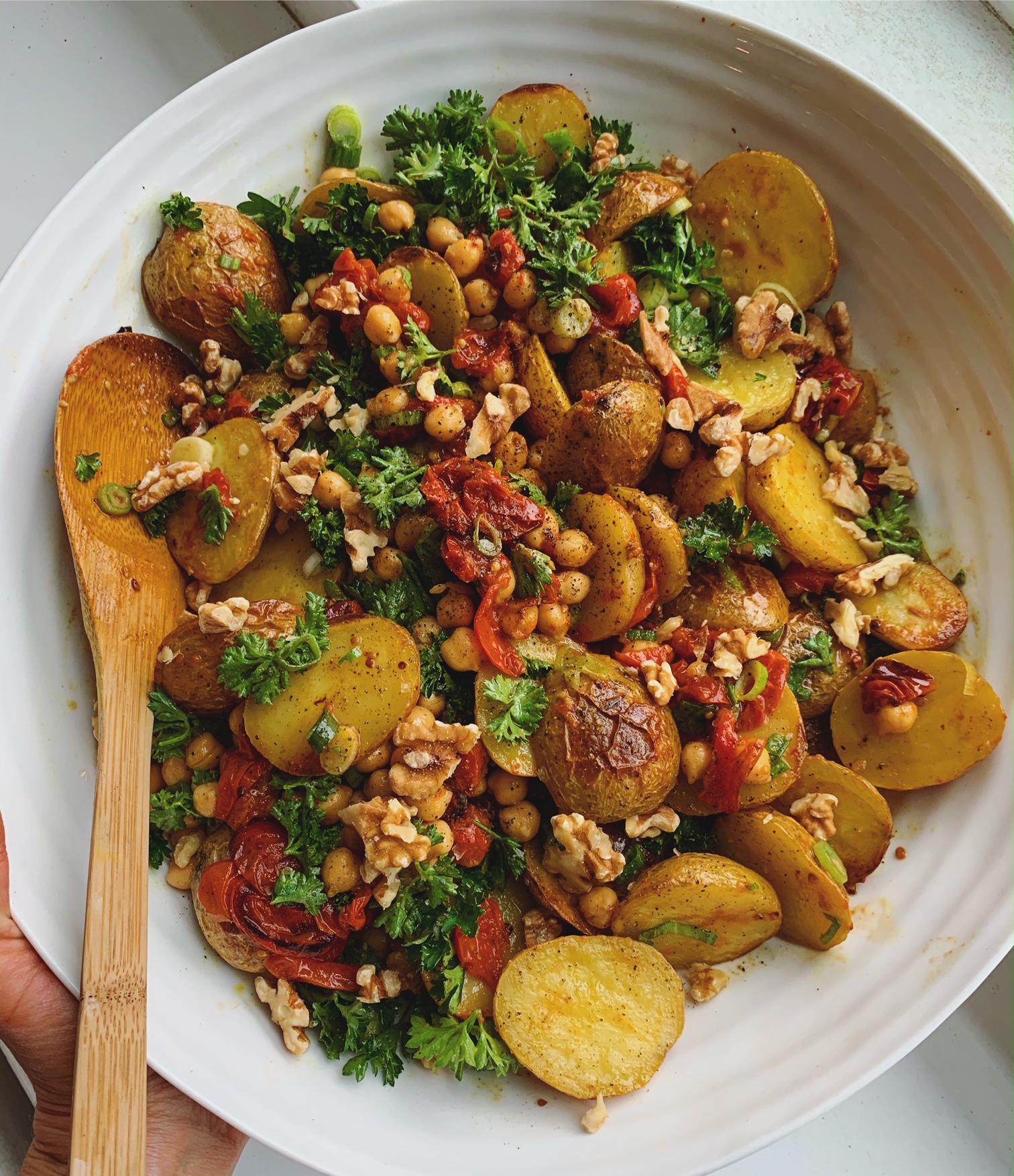 I first discovered this salad (or something similar) while lunching at a beautiful cafe and bakery here in Vancouver called Flourist. It was so delicious, I vowed to recreate it at home ASAP. On Instagram stories, I shared news of the delicious salad and announced my plan to attempt to make it. I went through the cooking process only to learn that the recipe had been on Flourist's blog all along! (Thanks to followers for the tip.)
The original recipe is fantastic and I highly recommend it. Below I've modified it by adding extra potatoes (the more carbs, the better), over quadruple the parsley (almost making it tabbouleh-like), less oil in the dressing (it's still oily) and the option of adding in walnuts and capers, which add a nice crunch and salty element. Hope it becomes a regular dinner in your home as it has in mine!
Ingredients
For the salad
7 c fingerling or nugget potatoes
2 pints cherry or grape tomatoes
6 tbsp olive oil
2 tsp salt
1 heaping c parsley (chopped)
1 bunch or 1 c scallions (thinly sliced)
2 cans chickpeas
1/2 c walnuts (chopped) (optional)
1/4 c capers (optional)
For the dressing
1/3 c extra virgin olive oil
1/4 c apple cider vinegar
2 tbsp dijon mustard
2 tbsp maple syrup
1 tsp salt
1/2 tsp pepper
1/2 tsp turmeric
1/2 tsp mustard powder (optional)
Preheat oven to 400F and slice tomatoes and potatoes in half (if using slightly larger nugget potatoes, cut into quarters). Transfer tomatoes to a baking sheet and potatoes to a separate baking sheet. Drizzle each pan with 3 tbsp olive oil and 1 tsp salt. Using your hands, toss to coat. Place both pans in the oven and roast for 35 minutes or until potatoes are golden and tomatoes are blistering.
To a large bowl, add salad ingredients: chickpeas, parsley, scallions and walnuts and capers, if using.
Make the dressing by adding all ingredients to a bowl and whisking to combine.
Once potatoes and tomatoes are roasted, add them to the salad bowl and pour on the dressing. Toss and enjoy!
Rating
5 out of 5 stars (based on 9 reviews)
Latest Reviews
Absolutely genius
This is made by me once a week
Absolutely love
Incredible Flavors!
I've made many a mustard maple dressing and so expected this to be delicious, but wow – the composition of this dish blew me away! The roasted tomatoes are so fulsome in their flavor. I didn't have scallions but did have a lovely leek and sautéed that for a bit before tossing with everything else. And subbed toasted slivered almonds instead of walnuts since my son has a walnut allergy. Yum. Yum. Yum. Going to make this all fall.
So fresh and delicious!
Pretty quick to throw together. Will be my go to summer salad. I love the walnuts and capers so I suggest using them!
Great.
Really enjoyed this recipe. I put it over a bed of spinach. Will be making it again. Thanks!
All around amazing
The dressing was fantastic! Super satisfying meal. Would love to make this in the summer as a side for a BBQ.