Roasted Veg with Quinoa and Tahini sauce (A Favourite Easy Dinner)
Jan 05, 2021 by
erin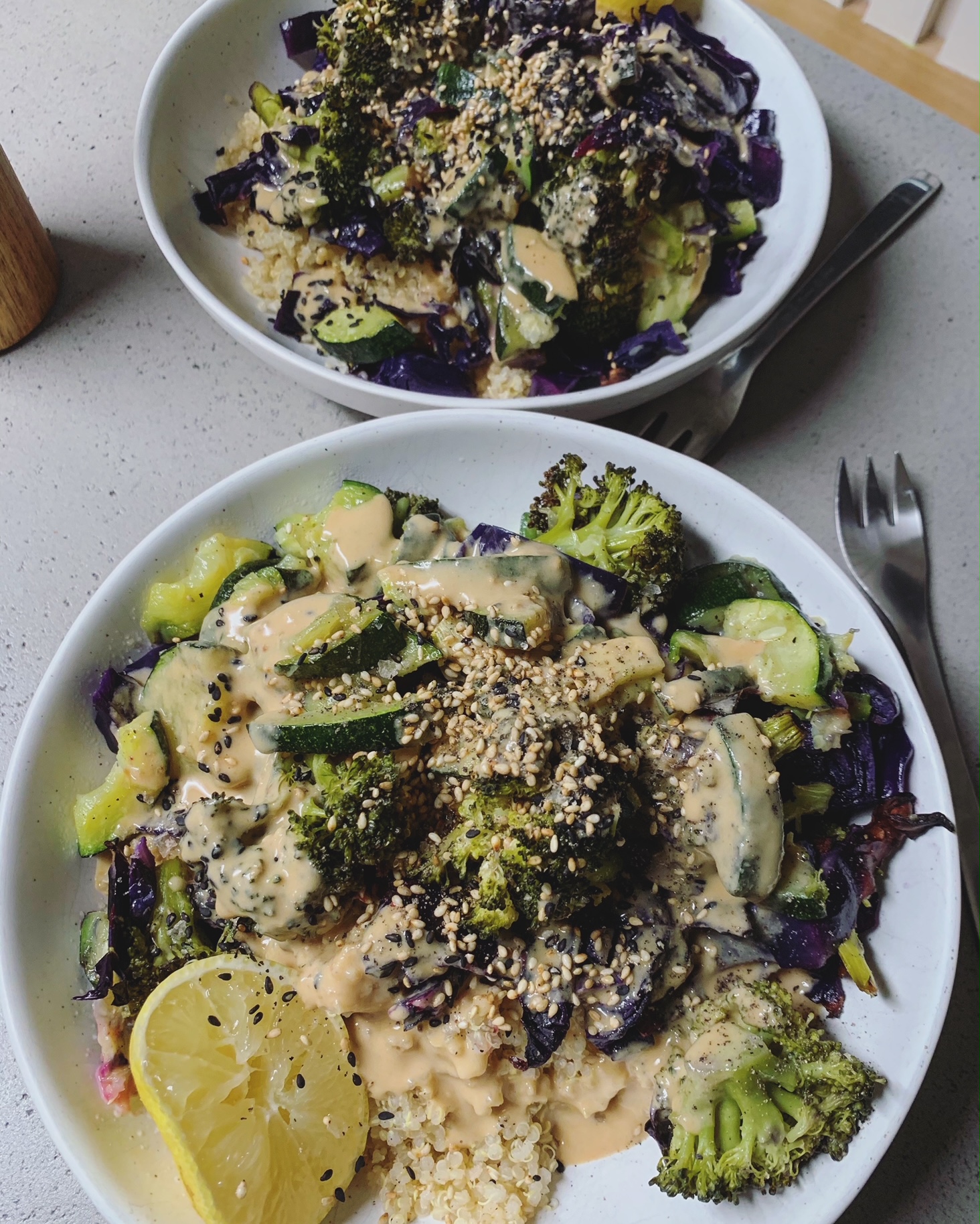 This is easily one of the most common meals in our dinner rotation. When I'm stumped on what to make, I often end up cooking this dish because it's so versatile and I always have all the ingredients on hand. Below in the recipe, I've listed broccoli, red cabbage and zucchini, but use whatever you have or whatever is ageing in your fridge. Other vegetables that work especially well here include grape tomatoes, peppers, carrots, yams, mushrooms, fennel and cauliflower. You can use as little as two vegetables when cooking this dish — or do a big mix of several on your roasting pan. And, of course, use whichever grain you like. Other options include farro, fonio, wheat berries, barley and rice.
Ingredients
For the roast veggies
1 head broccoli
1/2 red cabbage
1 zucchini
2 tbsp oil
1 tsp salt
2 tbsp garlic powder
Pepper (to taste)
For the quinoa
For the sauce
1/2 c tahini
scant 1/2 c water
1 1/2 tbsp tamari or soy sauce
1 tsp maple syrup (optional)
For the garnish
Sesame seeds
Coarse salt and pepper
Lemon juice
Directions
Preheat oven to 400F and begin chopping vegetables into bite-sized pieces. Spread cut veggies onto a roasting pan and add oil, salt, pepper and garlic powder. Toss veggies with hands until they are well-coated. Bake for 45 minutes, flipping them once at the 30 minutes mark.
Make quinoa (or grain of choice) by adding quinoa and water to a pot. Cover with a lid and turn element heat to high. Once boiling, reduce heat to low and cook for 15 minutes.
For the sauce, add everything to a bowl or a jar and whisk or shake until combined.
To assemble, start be dishing up the quinoa into a bowl. Drizzle with lemon, if you like. Load on your veggies, drizzle with a generous amount of sauce and sprinkle with sesame seeds, coarse salt and pepper.
Rating
[site_reviews_summary assigned_posts="197" hide="bars, rating" schema="true"]
Add your own review
[site_reviews_form assigned_posts="197" hide="email" label="Testing"]
Latest Reviews
[site_reviews assigned_posts="197" class="site-reviews" pagination="ajax"]