Spaghetti with Mushrooms, Kale and Sausage
Jan 09, 2021 by
erin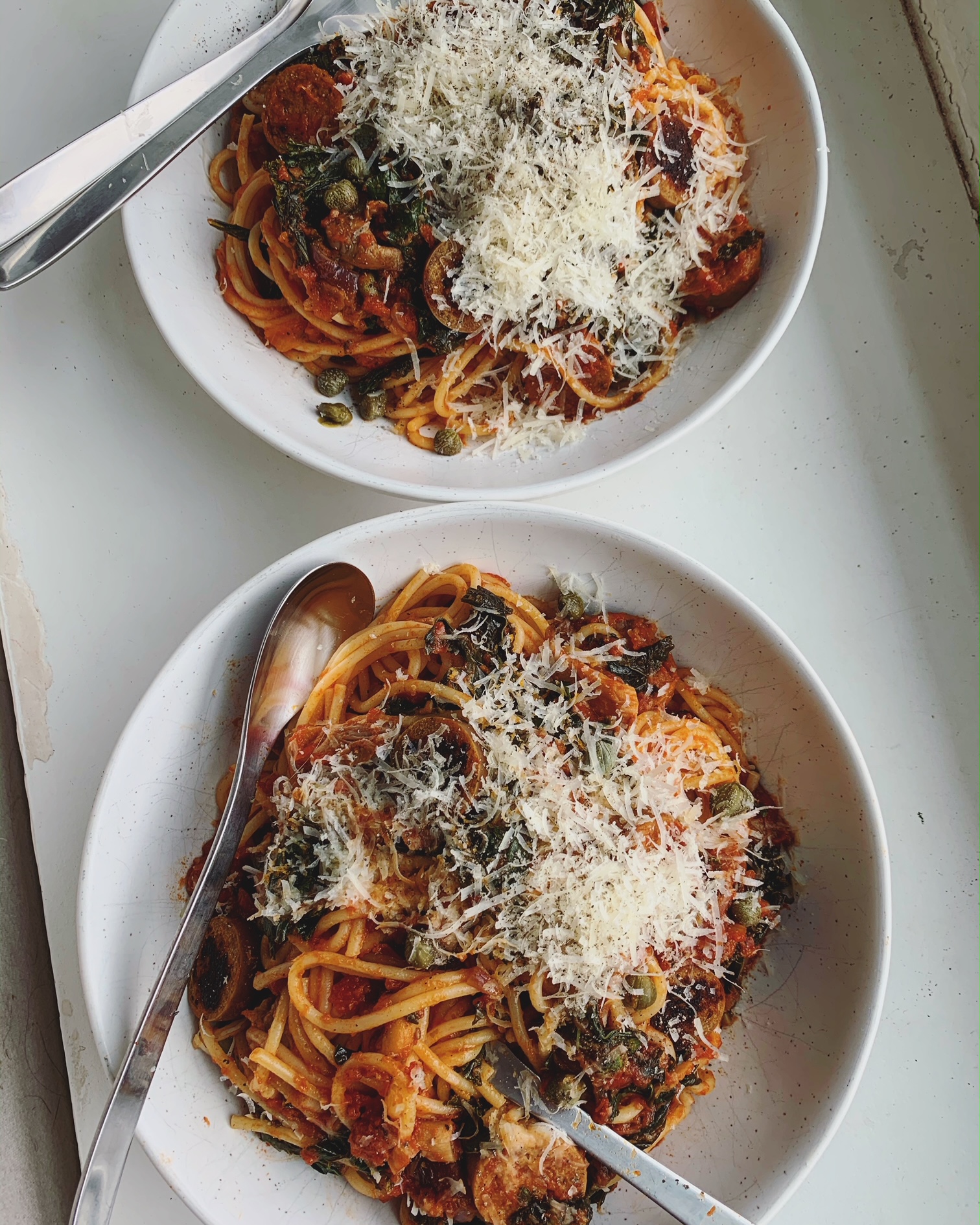 This recipe ticks all the boxes for this stage of my life: nutritious, easy, filling. Back in the day, I might have preferred to make the tomato sauce from scratch and use a wider variety of vegetables, but these days, when there are two kids wanting attention, I'm all about shortcuts that don't affect the end result. At the end of the day, this recipe contains three different vegetables…that's more than enough for dinner! It contains carbs, fats and protein. It's a great, crowd-pleasing almost-one-pot-meal (does the pot used for boiling the pasta count?). Thanks to my friend Anna (@easyanimalfree) for introducing me to this type of spaghetti recipe a few years back!
For the plant-based sausage, my favourite, most authentic option on the market are those by Beyond Meat. They are fatty, rich and flavourful. If you're cooking for a vegan skeptic, definitely choose these! They're available in the freezer section of many grocery stores (like Choices, Urban Fare, Stong's). I also like the Apple Sage Sausages by Field Roast and the Spinach Pesto Sausages from Tofurkey.
Lastly, this recipe contains two jars of marinara sauce. This makes up for a big portion of the recipe! That means that the deliciousness of the recipe kind of depends on the sauce. Our favourite is Mezzetta (any of the vegan options), but Rao (quite a bit more expensive) is also really tasty (not at all sponsored, by the way).
This recipe is extremely versatile. You really can't go wrong! And don't feel like you have to stick too closely to the recipe. Every time I make this dish I do it a bit differently. Make it your own. Mix up the veg. Mix up the garnish. Add olives. Hope you enjoy and that it becomes a part of your regular cooking repertoire.
Ingredients
For the sauce
2 tbsp oil
1 onion (chopped)
1 tbsp garlic powder (or five minced garlic cloves)
1/2 lb (225g) mushrooms of choice (two big handfuls) (chopped)
1 tsp salt
3 plant-based sausages (sliced)
Black pepper (to taste)
2 jars marinara sauce (709mL jars, 1.4L total)
2 large handfuls chopped kale or spinach
1/4 c capers
For the pasta
3/4 lbs egg-free spaghetti (3/4s of a pack, 340g)
Dairy-free parm cheese (grated) (optional garnish)
Salt and pepper (to taste)
Directions
Heat a large pan on medium heat and add oil. Once hot, add onions. When onions are translucent, stir in garlic and cook until fragrant, about a minute. Next, increase heat to medium high and add your mushrooms. While stirring, cook until lightly browned, about five minutes. Reduce heat back to medium and add sausage to the pan. Season with salt and pepper and cook until sausages are browned.
Cook spaghetti according to package instructions.
Add marina sauce to your pan of veggies and stir. Bring sauce to a boil, then add kale or spinach, stir so the leaves are coated with sauce and cover the pan with a lid. Cook for five minutes, until greens are wilted. Add capers, then add your drained spaghetti to the pan and mix everything together. If your pan isn't large enough, dish plain pasta up into bowls, then add the chunky sauce overtop. Garnish with dairy-free vegan parmesan cheese, if you like (this one is my favourite on the market…it is an absolute dead-ringer for the real thing).
Rating
[site_reviews_summary assigned_posts="208" hide="bars, rating" schema="true"]
Add your own review
[site_reviews_form assigned_posts="208" hide="email" label="Testing"]
Latest Reviews
[site_reviews assigned_posts="208" class="site-reviews" pagination="ajax"]