The Best Easy Chocolate Mousse
Jan 07, 2021 by
erin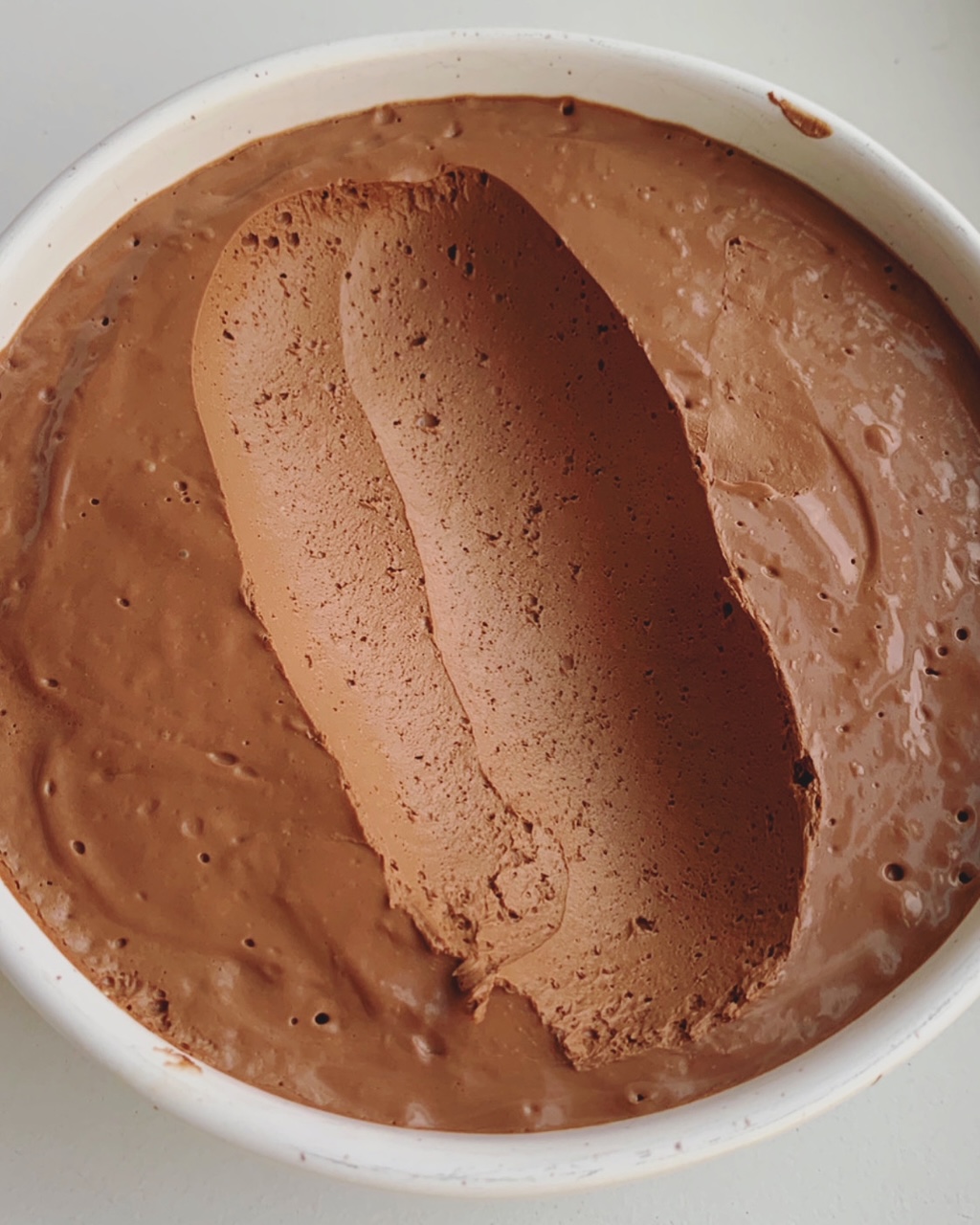 This super-thick, creamy, mildly-sweet chocolate mousse is so delicious, if I hadn't made it myself, I'd find it hard to believe it's made with so few, simple ingredients. It's the kind of recipe that's so good (and easy!), I can't imagine myself ever bothering with another chocolate mousse recipe.
All you do is melt the chocolate, whip up your aquafaba in a mixer, then combine all the ingredients in a blender before letting it set in your fridge for a few hours. Nothing fancy!!! And to think that the most plentiful ingredient in this recipe is soft tofu! I always have a hard time putting this one down. This mousse is quite mildly sweet — dark chocolate is its most predominant flavour. If you prefer a sweeter dessert, add two tablespoons of maple syrup to the step that involves the blender.
BTW, I use the word 'best' in the title of this post for searchability. Of course, there no such thing as a 'best' recipe because everyone's preferences are different. When googling recipes, I don't think many of you are using the keywords, "favourite chocolate mousse" (which is what this is to me), so the word 'best' is the most effective.
Ingredients
1 1/4 c chocolate (200g) (chips or chunks)
1/2 c aquafaba
400g soft or silken tofu
3/4 tsp salt
1 tbsp + 1 tsp vanilla
1 tsp almond extract (optional)
1 tbsp instant coffee powder (optional)
Melt chocolate using a double broiler/make-shift double-broiler or in the microwave. For the make-shift double-broiler method, add one to two inches of water in a small pot on the stove and bring to a boil. Once boiling, reduce to low heat. Add chocolate to a heat-proof bowl and rest the bowl on top of the pot — stir until chocolate is melted. If using the microwave, zap for 15 second increments until melted, stirring in between.
Next up, add aquafaba (the liquid from a can of chickpeas) to the bowl of your super clean mixer (if there is any 'fat' residue leftover on your bowl or whisk from a previous recipe, the aquafaba magic won't work!) and mix on high for several minutes until the liquid has become fluffy and soft peaks form (you'll be able to tip bowl upside down without anything pouring out).
Add tofu, melted chocolate, vanilla, salt, instant coffee (if using) and almond extra (if using) to a blender and mix until silky smooth. Transfer mixture to a bowl and stir in your aquafaba fluff until fully combined. It may seem watery and a bit bubbly, but don't worry — it will firm up and those bumps or air bubbles in the mixture will result in a satisfying texture (kind of like an Aero chocolate bar). Transfer mousse to ramekins, wine glasses, small bowls, a big bowl or even a tupperware container and place in fridge to set. Setting time will vary depending on the size of your container (two to six hours).
Rating
[site_reviews_summary assigned_posts="202" hide="bars, rating" schema="true"]
Add your own review
[site_reviews_form assigned_posts="202" hide="email" label="Testing"]
Latest Reviews
[site_reviews assigned_posts="202" class="site-reviews" pagination="ajax"]