Santa Fe Tofu Salad
Jan 16, 2021 by
darren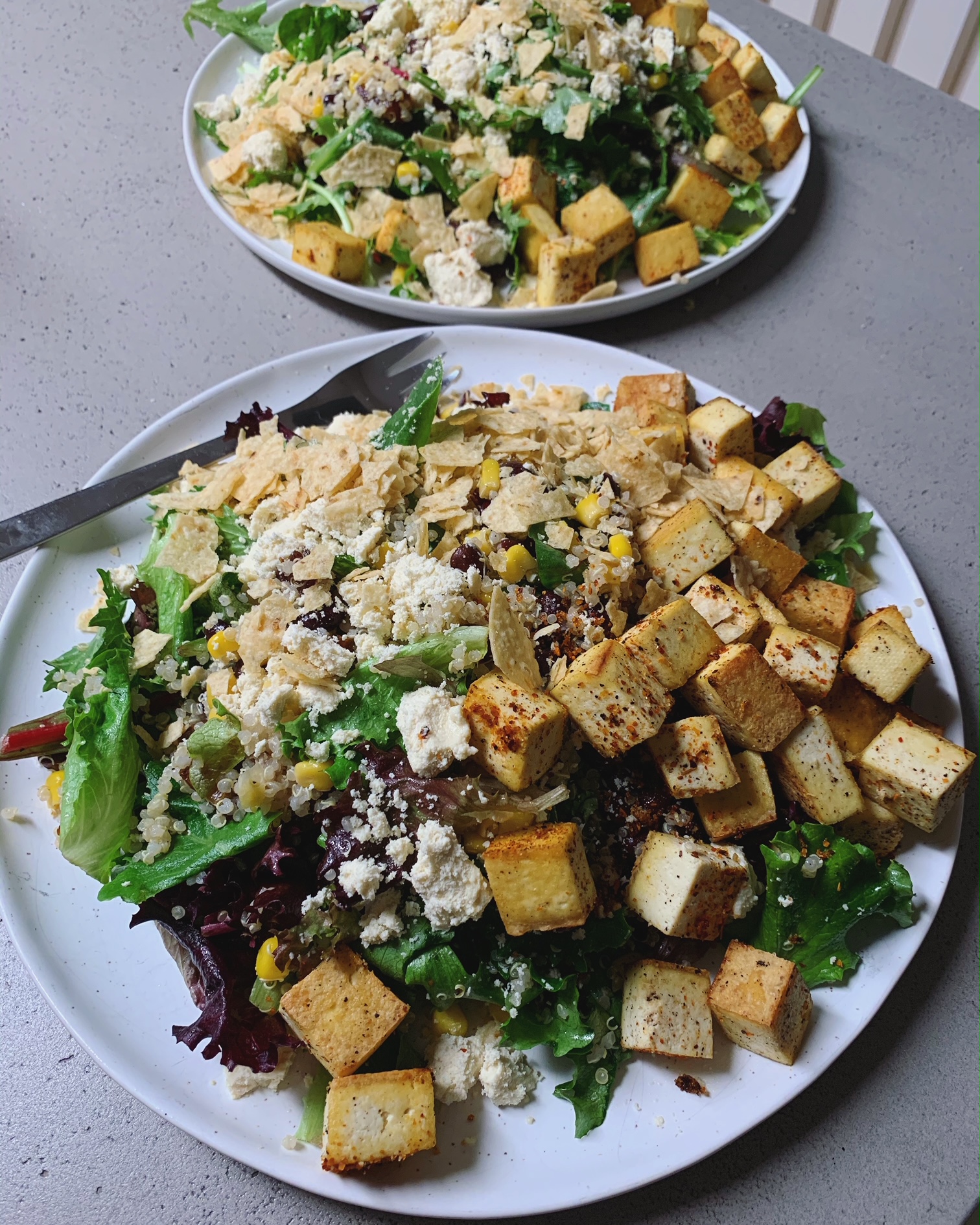 I've been obsessed with this salad for years, ever since I discovered it while working at Earls. I know I'm not alone! It's a popular salad for good reason. The sweet dates combined with the salty feta are a magical combination. It's hearty, nutritious and easy to assemble. There's hardly any cooking involved.
For the tofu feta, I recommend making this recipe ahead of time. If you'd prefer to purchase a good dairy-free substitute, there are lots of options out there, like Violife Feta (available at Vegan Supply and Walmart) and Black Sheep's Veta. These two are hands-down my favourite dairy-free feta options.
For the pan-fried Tofu, feel free to use cajun spice or Tajin, an amazingly tangy chili lime spice that causes me to salivate just thinking about it! I get mine from South China Seas, but Walmart has it, too (among other stores). As for the quinoa, you can sub in whichever grain you like, even rice. I sometimes choose quinoa simply because it only takes about fifteen minutes to cook on the stove. I usually make the quinoa ahead of time so it has a chance to cool (if you prefer a warm salad, go for it). Hope you love this salad as much as I do!
Ingredients
For the salad
1 large head of lettuce (or two super large handfuls of chopped greens)
2 1/2 c cooked quinoa
1 can black beans
1 can corn
8 dates (chopped)
Tofu feta (or other crumbly dairy-free cheese) (garnish)
Tortilla chips (crumbled) (optional)
For the tofu
1 tbsp oil
1 block firm tofu (chopped into bite-sized cubes)
Salt and pepper (to taste)
2 tbsp Tajin or Cajun spice
For the dressing
1/4 c olive oil
Juice of a large lime
1/2 tsp garlic powder
Salt and pepper (to taste)
Make the tofu feta and cook your quinoa (or grain of choice) ahead of time and store in fridge.
Assemble your salad by placing your rinsed beans, corn, chopped dates and lettuce in a large salad bowl.
Make dressing by adding oil, lime juice, garlic powder, salt and pepper into a jar and shaking to combine. Add dressing to the salad and toss well.
Preheat skillet over medium to medium high heat and add oil to the pan. Once hot, add tofu cubes and fry about four minutes per side or until golden brown. Once cooked on multiple sides, sprinkle with spice of choice (Tajin or Cajun spice) and add to salad.
Garnish salad with tofu feta and crushed tortilla chips (crumbled with your hands). This salad is also nice with avocado on the side. Enjoy!
Rating
[site_reviews_summary assigned_posts="212" hide="bars, rating" schema="true"]
Add your own review
[site_reviews_form assigned_posts="212" hide="email" label="Testing"]
Latest Reviews
[site_reviews assigned_posts="212" class="site-reviews" pagination="ajax"]